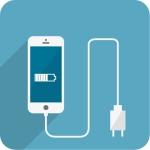 Descriptions : The mobile phone charging function is automatically optimized in the following ways:
Features :
+ Reduce screen brightness, reduce power consumption to save battery power.
+ Notify users to deal with abnormal increase in power consumption in a short time.
+ Optimize WiFi, GPS, Bluetooth and other system settings to reduce cell phone consumption.
+ Real-time mobile phone temperature monitoring, remind users to unplug the charger to avoid overheating
+ Accurately predict the remaining charge time and reset full charge.
Required Android Versions : Jelly Bean [4.1–4.3.1] - KitKat [4.4–4.4.4] - Lollipop [5.0–5.0.2] - Marshmallow [6.0 - 6.0.1] - Nougat [7.0 – 7.1.1] - Oreo [8.0-8.1]
Download Super Charging Pro v5.13.39 APK VIP Free