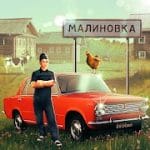 Description:
Russian Village Simulator 3D - a fun simulator for staying in a canonical stereotypical Russian village. With all its charms and disadvantages. His name is Malinovka and the main character decided to take a break from the hustle and bustle of the city here. He can walk the streets and surroundings, take boat trips, explore and reveal local secrets, communicate with residents, go to extravagant discos and, of course, take part in fights. First-person view, an open world, a variety of activities, fun physics, the availability of work equipment and much more will delight fans of original entertainment.
Features:
* A unique first-person game!
* Completely open world! Do what you want!
* Realistic driving of a real Russian car with a damage system.
* Fun physics and ragdoll.
* Clever artificial intelligence from mobs that won't let you get bored.
* Interactive interaction with village animals.
Download Russian Village Simulator 3D v1.3 Mod (Full version) Apk Free