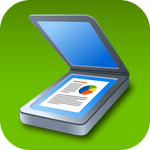 Descriptions : In student life or work, you will have to go through cases where you need this application. With the modern and intelligent features available, Clear Scan automatically detects the critical data on the exercise images quickly and accurately. You have a high speed data processing mode with fantastic speed. Users have the opportunity to get the fastest results and all data is professionally filtered. It becomes easier for users to re-read the text and understand the content more thoroughly. If you want to delete a page while studying, it's entirely possible. Or if you want to delete a specific document file that you consider obsolete, press a mouse button and immediately all information will be cleaned in the simplest way. It is also possible to insert a specific page to enrich your document. In addition, the application also allows you to organize pages one by one and arrange the mass of information in the most logical way.
If you want to create PDF files for your selected content, you can choose the most suitable size for you. Be it A4, Letter or any other page. In addition, you also have the right to email information about these folders to your friends or teachers very quickly. The important thing is that you can freely print PDF files using the Cloud Print icon. What are you waiting for without trying to join this application to get thousands of unique and special features? If you want to convert images to text easily, then this application is a must for you. In addition, you can also edit them and share them on some information channels or send them to your loved ones via SMS. Most importantly, it gives you the ability to recover anything that has been deleted or simply back up the necessary information in a few small steps.
Features :
+ Automatic document edge detection and perspective correction
+ Extremely fast processing
+ Flexible editing, file can be edited after saving
+ Document naming, in-app storage and search
+ Add or delete a page or the entire document
+ Reordering of the page after adding or deleting
+ Set page sizes for PDF (Letter, Legal, A4 and more)
+ Email specific pages or the entire document
+ Print PDF file via Cloud Print
+ Extract texts from image OCR, convert images to text for you to search, edit or share
+ Tiny app size.
Required Android Versions : Jelly Bean [4.1–4.3.1] - KitKat [4.4–4.4.4] - Lollipop [5.0–5.0.2] - Marshmallow [6.0 - 6.0.1] - Nougat [7.0 – 7.1.1] - Oreo [8.0-8.1]
Download Clear Scan PDF Scanner App v6.5.1 Premium APK Free