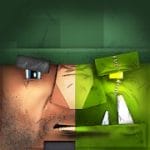 Descriptions :
Block Fortress War - A cool strategy game with RPG elements in the Minecraft genre. Blockverse awaits us - an alternate universe of cubes, pixels and blocks. Five worlds dominate the world here, but the inhabitants of only one of them will be able to stay alive and command a cubic galaxy. Join the ranks and destroy the enemy with the power of the entire military block industry. If you have set up towers, block the passage of the enemy, build an army of your invincible soldiers, and begin the battle. Really great action is yet to come! Dozens of single-player campaign levels and stand-alone matches await us in multiplayer. For those who want to see Minecraft in the style of a strategy - they have their own!
Features :
* Block building meets real-time strategy in an action-packed and tactical game.
* Play as one of five races, each with their own unique troops, heroes and blocks.
* Choose one of over a dozen heroes with different strengths, weaknesses, weapons and abilities.
* Customize your army from a huge range of gear for every race.
* Build a sophisticated and powerful defense by placing blocks, towers, bombs and more.
* Battle through a huge campaign on five different planets.
Download Block Fortress War v1.00.15.3 Mod (Unlimited money) Apk + Data Free
Mod
block_fortress_war_v1.00.15.3_mod_minerals.apk
Data - OBB
com.foursakenmedia.blockfortresswar.zip
Cache path: SD / Android / obb